Available Tickets
Welcome to Queens Championship Tennis 2024 – Your Gateway to the warm-up to the Wimbledon Grand Slam,
Are you a die-hard grass court tennis fan? Do you dream of witnessing the world's most incredible tennis talents battle it out on the pristine courts of Queen's Club in London? Look no further! Queens Championship Tennis is your ultimate destination for securing those coveted Queens tennis tickets, including Queens Cinch Championships 2024 tickets.
Queens Tickets – A Slice of Tennis Heaven
Queens Tennis Tickets are like the golden tickets to grass court tennis. These tickets are highly sought-after, and it's no surprise why. Legends are made in the Queens Championship Tennis tournament at the Queen's Club, and history is written with every powerful serve and graceful volley.
Queens Tennis Tickets 2024 – Your Pass to the Future
The Queens Cinch Championships 2024 promises to be an event of epic proportions. With top-ranked players from around the globe set to compete, this is your chance to be a part of tennis history. But the question is, how do you secure your Queens tennis tickets for this unforgettable experience?
We Obtain the Unobtainable – Queens Championship Tennis
At Queens Championship Tennis, we take pride in making the impossible possible. We specialise in obtaining those hard-to-get Queens tennis tickets, even for the most in-demand events like the Queens Cinch Championships 2024. Our dedication to providing tennis enthusiasts access to these exclusive tickets is unmatched.
Standard and Premium Centre Court Seats – Choose Your Throne
When you book your Queens tennis tickets with us, you can select from various seating options. Whether you prefer the electric atmosphere of standard seats or the luxurious experience of premium Centre Court seats, we've got you covered. Your comfort and enjoyment are our top priorities.
Benefits of Choosing Queens Championship Tennis
Why should you choose Queens Championship Tennis for your Queens tennis tickets?
1. Easy-to-Use Website: Our user-friendly website makes browsing, selecting, and purchasing your tickets a breeze. No fuss, no complications, just a seamless ticket-buying experience.
2. We Never Sell Out: Unlike many ticket sellers, we make it our mission to ensure you never miss out on witnessing the Queens Championship Tennis live. We've got an extensive network of sources, ensuring a steady supply of tickets.
3. Phone Support All the Way: Have questions or need assistance? Our dedicated customer support team is here to assist you every step of the way, from the moment you purchase your Queens tennis tickets to the day of the event. We're just a phone call away, ready to support you.
Secure Your Queens Tennis Tickets Today!
Don't let the opportunity to witness the Queens Cinch Championships 2024 slip through your fingers.
Queens Championship Tennis is your trusted source for securing your place at this prestigious event. We make your tennis dreams come true with a simple, secure booking process, unbeatable availability, and round-the-clock customer support.
Remember, Queens Championship Tennis is where the magic of grass court tennis happens.
it's where you'll be cheering for your favourite players, surrounded by fellow tennis aficionados, and where lifelong memories are created. Don't miss out on your chance to participate in the Queens Championship Tennis experience.
Secure your Queens tennis tickets now, and prepare for a summer of unforgettable tennis action at the Queen's Club in London!
Queens Tennis Tournament 2024
Queens Tennis 2024 Dates are Monday 17th June till 23rd June 2024 at the famous Queens Club, London. Buy Queens Tennis tickets 2024 for this sell-out event every year after the French Open.
Queens Tennis Order Of Play 

(Cinch Championships, Formerly Fevertree and AEGON Championships)
| | | |
| --- | --- | --- |
| Date | Singles | Doubles |
| Monday 17th June | 1st Round | 1st Round |
| Tuesday 18th June | 1st Round | 1st Round |
| Wednesda19th June | 2nd Round | Quarter-Finals |
| Thursday 20th June | 2nd Round | Quarter-Finals |
| Friday 21st June | Quarter-Finals | Semi-Finals |
| Saturday 22nd June | Semi-Finals | Semi-Finals |
| Sunday 23rd June | Final | Final |
About the ATP Queens Club cinch Championships, formerly Fever-Tree Championships.
(Formerly The AEGON Championships)
Gates open at 10.30 am daily. Play starts are usually no earlier than noon Monday to Friday, 1.15 pm on Saturday 17th and the Sun 23 June final day, Sunday, 2.00 pm.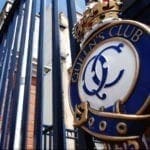 Queens Club tennis tickets 2024 are available for centre court Queens Club London on all days of the Queen's Tennis, Monday through to the Final on Sunday. Cinch Championships, formerly Fever-Tree Championships Tennis Queens, start to heat up from Wednesday onwards when the top tennis seeds come through.
These Tennis Championships are played on outdoor grass courts and are part of the ATP World Tour 250 series. Usual players appearing at Fever-Tree, now cinch Queens (formerly Aegon Queens) are The French Open champion, Andy Murray and Rafael Nadal.
Where is Queens Tennis?
The cinch Championships, formerly Fever-Tree Championships (formerly Aegon), is played at The Queen's Club, Palliser Road, West Kensington, London W14.
The nearest station is Barons Court. The Club was formed in 1886 and was one of the first purpose-built sports centres in the World. The venue is named after Queen Victoria, the Club's first patron. It is hailed as one of the best tennis clubs in the World and has some of the finest grass tennis courts.
How to Get to the Queens Club
Parking is extremely limited at the Cinch Queens Club, and it is advised to arrive by a tube to Barons Court or cab. Present your cinch Championships Tickets 2024 (formerly Fever-Tree, Aegon or Stella Artois Championships Tickets) to Queens Club at the gate to gain entry.
Eating at Queens Tennis Tournament 2024
When you buy tickets, you can reserve a table at the Q Brasserie restaurant, where you can enjoy an excellent three-course lunch.
To book, please call 01295 269 454. Unfortunately, the Brasserie is in high demand, and bookings can only be made for up to 4 guests when accompanied by your tennis tickets.
When buying tickets, why not treat yourself to a three-course buffet lunch plus cheese and coffee that can be booked or, at an extra cost, the Champagne Lunch, which includes half a bottle of champagne per 2 guests or 1 bottle per 4 guests at the Brasserie. Queens Open Tennis details here
As The Brasserie is extremely popular, bookings are restricted to four daily guests. A large food court and bar serve hot and cold food or drinks. The Queens Club Moet Chandon bar is just inside the main entrance; why not indulge in a glass or two and sit in the centre court courtesy of your Queens Tennis tickets and cinch Championships?