Available Tickets
Six Nations Tickets 2022 on Sale – Call UK 0203 070 3997
Buy rugby Six Nations rugby tickets 2022 now even if they are hard to get or sold out for the popular rugby 6 Nations tournament. The Six Nations fixtures 2022 run from February until March.
We supply rugby tickets for every match of the Guiness VI Nations even if they are sold out! Check out why these 6 Nations Rugby tickets are so hard to buy by opening the rugby Six Nations Fixtures 2022 Info tab above. Personal or Corporate Bookings!
✅ Best Seats Available: We Provide VIP Rugby 6 Nations Tickets!
✅ Let Us Make Your Life Easier: Best Seats, No Hassle, No Queues, Last Minute!
✅ Buy with Confidence: Our Six Nations 2022 Tickets are 100% Guaranteed!
✅ Peace of Mind: Get in touch anytime by Email or Telephone – UK 0203 070 3997
Buy Six Nations Tickets 2022 for Sale above!
2022 Guinness Six Nations fixtures with Wales set to open their title defence against Ireland on 5 February.
Scotland will host England on the same day, while France will face Italy at the Stade de France on Sunday 6th February.
There will be a return of Friday night rugby in Round 4 with Wales v France set to take place on 11th March at Principality Stadium in Cardiff.
Super Saturday 2022 will take place on 19th March starting with Wales v Italy, followed by Ireland v Scotland and concluding with France v England.
IMPORTANT NOTICE DISCLAIMER
This notice serves as a prominent warning that is designed to minimise any confusion between two trade names or trademarks to any visitors to our website. We do not claim to be (Six Nations Rugby Ltd) who is the registered proprietor of a portfolio of trademarks regarding this event.
Ticketstosee known as the web site www.ticketstosee.com is an independent ticket broker engaged in the service of finding and providing hard to get tickets & hospitality to all concerts, sporting, theatre and cultural events world-wide.
We are not affiliated with, nor do we have any licenses or strategic alliances with, nor are we authorised by any box office, promoter, venue, theatre, stadium, hotel, sporting team or sporting association.
All and any copyrights, trademarks, trade names used are for descriptive purposes only. We offer goods or services as a re-seller branded as Ticketstosee.com an independent ticket broker, we in no way seek to deceive our customers into believing that they are buying the goods or services of another party that they trust and are familiar with.
This disclaimer explicitly avoids any misrepresentation or confusion of viewers of our website Ticketstosee.com and associated damage to the goodwill of a business or person. As we only re-sell tickets second hand there is no damage financially through revenue lost on unsold products and services.
All and any copyrights, trademarks, trade names etc shown are for descriptive purposes only to identify the brand owner's goods/services, they are both honest and referential. To explicitly clarify, we are not the owner of the brand and do not claim any association or endorsement with the owners of the brand and trademark. We are not passing off our company for any other.
We also explicitly state that we are in no way adopting any other trademark as our own brand, which is overtly promoted on this website as Ticketstosee.com with our own logo type. We act only as a re-seller of the product and make no claim to be passing off as the registered owner.
Any honest referential use of a protected brand is not being used too prominently relative to our own brand and any use categorically does not give the impression of a greater commercial connection with the protected brand than exists in reality or any misrepresentation or confusion to viewers of our site.
We explicitly state, to avoid any confusion, misrepresentation or claims of passing off that Ticketstosee.com (Our Brand Name) have absolutely no connection with (Six Nations Rugby Ltd) in connection with any of its intellectual property matters.
Honest referential use of trademarks with reference to the branded products we re-sell, is to show that your goods are compatible with them. The use is in accordance with honest practices in industrial or commercial matters.
While Ticketstosee.com strives to make the information on this website as timely and accurate as possible, we make no claims, promises, or guarantees about the accuracy, completeness, or adequacy of the contents of this site, and expressly disclaim liability for errors and omissions in the contents of this site.
Guinness Six Nations 2022 Fixtures
ROUND 1
Saturday 5th February 2022
Ireland v Wales, Aviva Stadium, Dublin Kick-off: TBC
Scotland v England, BT Murrayfield Stadium, Edinburgh Kick-off: TBC
Sunday 6th February 2022
France v Italy, Stade de France, Paris Kick-off: TBC
ROUND 2
Saturday 12th February 2022
Wales v Scotland, Principality Stadium, Cardiff Kick-off: TBC
France v Ireland, Stade de France, Paris Kick-off: TBC
Sunday 13th February 2022
Italy v England, Stadio Olimpico, Rome Kick-off: TBC
ROUND 3
Saturday 26th February 2022
Scotland v France, BT Murrayfield Stadium, Edinburgh Kick-off: TBC
England v Wales, Twickenham Stadium, London Kick-off: TBC
Sunday 27th February 2022
Ireland v Italy, Aviva Stadium, Dublin Kick-off: TBC
ROUND 4
Friday 11th March 2022
Wales v France, Principality Stadium, Cardiff Kick-off: TBC
Saturday 12th March 2022
Italy v Scotland, Stadio Olimpico, Rome Kick-off: TBC
England v Ireland, Twickenham Stadium, London Kick-off: TBC
ROUND 5
Saturday 19th March 2022
Wales v Italy, Principality Stadium, Cardiff Kick-off: TBC
Ireland v Scotland, Aviva Stadium, Dublin Kick-off: TBC
France v England, Stade de France, Paris Kick-off: TBC
When Do 6 Nations Tickets go on Sale?
Rugby's Greatest Championship, the Guinness 6 Nations is a festival of rugby union where proud fans of the six nations teams – England, France, Ireland, Italy, Scotland and Wales can enjoy the best rugby over five weekends in February and March. You can buy at any time from us.
Why are Rugby Six Nations Tickets 2022 so difficult to buy?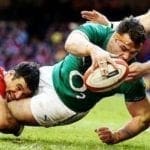 6 nations, As an example, to try to apply for the chance to buy an England v Ireland match ticket at face value, you should contact the England Rugby Football Union in the first instance, unless you live in Ireland, in which case you could also contact the Ireland Rugby Football Union.
Six Nations tickets are not made easily available to the general public as the sale of 6 Nations tickets is controlled by the host Union of each match. Host and visiting Unions allocate tickets first to rugby players and 2nd to the registered club's then finally to a very limited number of registered supporter clubs. If any six nations rugby tickets are left, these are sold to the general public, but this is very rare for big matches and they are practically impossible to obtain from a normal box office or website.
This makes obtaining Six Nations Championship Tickets incredibly difficult for the majority of matches for the public. We are a London specialist and an unbeatable source for all VI Nations tickets. We can obtain seats for large or small groups and your choice of preferred seating position at all venues including Twickenham, Murrayfield, Millennium Stadium, Stade de France and Aviva Stadium Dublin. Tickets to see is the easy way to buy these hard to get tickets.
Are any Guinness Six Nations 2022 tickets available to the general public?
The Union contact details are listed below, to register and join as a supporter and then to enter the ballot to try to get RFU tickets.
England – Rugby Football Union
Rugby House, Rugby Road, Twickenham TW1 1DZ
France – Fédération Française de Rugby
CNR, 3-5 rue Jean de Montaigu, 91460 Marcoussis FRANCE
Ireland – Irish Rugby Football Union
62 Lansdowne Road, Ballsbridge, Dublin 4 IRELAND
Italy – Federazione Italiana Rugby
Stadio Olimpico, Foro Italica 00194 Roma ITALY
Scotland – Scottish Rugby Union
Murrayfield, Edinburgh EH1Z 5PJ
Wales – Welsh Rugby Union
Millennium Stadium, Westgate Street, Cardiff CF10 1NS WALES
It is a difficult, laborious and usually unsuccessful quest for Six Nations Rugby Tickets 2022.
You may also like Hong Kong Sevens Tickets
If you are looking to buy Six Nations tickets for sale, we can obtain them easily for you. Call us Today on UK 0203 070 3997.