Qatar Prix de l'Arc de Triomphe 2022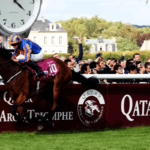 Popularly referred to as the "Arc", it is Europe's second most prestigious horse race (after the Epsom Derby). Its roll of honour features many highly acclaimed horses, and its winners are often subsequently regarded as champions. It is currently the world's second richest turf race (behind The Everest).
A slogan of the Prix de l'Arc de Triomphe, describes the event as "Ce n'est pas une course, c'est un monument" – "It's not a race, it's a monument".
Book online now below or call the Qatar Prix de l'Arc de Triomphe help desk on UK 0203 070 3997