Les Miserables Sondheim Theatre London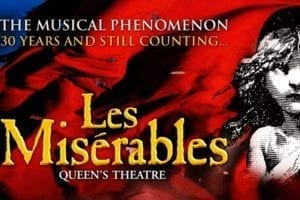 Tip: Don't wait until it's too late. Buy now so you don't miss out on today's price.
Les Miserables Tickets at the Sondheim Theatre are in high demand & they are selling fast, there is only limited availability.
Buy with confidence, we guarantee that you'll get your tickets to see Les Miserables in time for the show. It's the easy way to buy this hard-to-get, best seats & sold-out tickets at the iconic Queens Theatre (Sondheim Theatre) London.
Nothing beats being there, book now online or if you have any questions call UK 0203 070 3997 we are here to help.
Running time: 2 hours 50 minutes
Performance Times:
Evenings: Monday, Wednesday to Saturday 19:30
Matinees: Thursday, Saturday and Sunday 14:30