Available Tickets
Henley Regatta Tickets 2022
The dates of the 2022 Regatta will be Tuesday 28 June to Sunday 3 July.
Traditionally, the Regatta Enclosure has welcomed the general public. For 2021, the Regatta Enclosure area was re-allocated to the Stewards' Enclosure to provide some extra space and an additional area for refreshments.
Details of a new enclosure, The Supporters' Lawn was announced. On the traditional footprint of the Boat Tent, next to Leander Club it is an area which provides the friends and families of the Competitors a base from where they can cheer on their crews.
Regatta Enclosure Badges for this top rowing event held every year on the river Thames, are hard to find. The Henley Regatta dates are 6 days (Tuesday to Sunday) over the first weekend in July.
Also known as the Henley Royal Regatta, this annual sell-out event is held on the River Thames by the town of Henley-on-Thames, it attracts international rowing crews and thousands of spectators.
Why not treat VIP guests to hospitality, an experience they will never forget and enjoy the best vantage points with a VIP hospitality package.
Henley Royal Regatta is one of the major events in the social calendar of the upper class in England and competition for the limited number of Henley Regatta tickets 2022 is very high, particularly for the fifth and final day.
Due to the extremely high demand, we would recommend you book today online or call UK 0203 070 3997
IMPORTANT NOTICE DISCLAIMER
Ticketstosee.com,  known as the web site www.ticketstosee.com is an independent ticket broker engaged in the service of finding and providing hard to get tickets & hospitality to all concerts, sporting, theatre, and cultural events world-wide to VIP clients. We are re-sellers of genuine event tickets or hospitality to events, and we do not claim title to the goods we re-sell.
We are not affiliated with, nor do we have any licenses or strategic alliances with, nor are we authorised by any official box office, promoter, venue, theatre, stadium, hotel, sporting team or sporting association.
All and any copyrights, trademarks, trade names etc shown are for descriptive purposes only to identify the brand owner's goods/services, they are both honest and referential. To explicitly clarify, we are not the owner of the brand and do not claim any association or endorsement with the owners of the brand and trademark. We are not passing off our company for any other.
We also explicitly state that we are in no way adopting any other trademark as our own brand, which is overtly promoted on this website as Ticketstosee.com with our own logo type. We act only as a re-seller of the product and make no claim to be passing off as the registered owner.
Any honest referential use of a protected brand is not being used too prominently relative to our own brand and any use categorically does not give the impression of a greater commercial connection with the protected brand than exists in reality or any misrepresentation or confusion to viewers of our site.
Our business name is Ticketstosee.com we are not associated in any way with the intellectual property holder or registered proprietor of any of the trademarks used in the description of the tickets we resell.
We explicitly state, to avoid any confusion, misrepresentation or claims of passing off that Ticketstosee.com (Our Brand Name) have absolutely no connection with Henley Royal Regatta in connection with any of its intellectual property matters.
This notice serves as a prominent warning that is designed to minimise any confusion between two trade names or trademarks to any visitors to our website. We do not claim to be Henley Royal Regatta who is the registered proprietor of a portfolio of trademarks regarding this event.
Honest referential use of trademarks with reference to the branded products we re-sell, is to show that your goods are compatible with them. The use is in accordance with honest practices in industrial or commercial matters.
While Ticketstosee.com strives to make the information on this website as timely and accurate as possible, we make no claims, promises, or guarantees about the accuracy, completeness, or adequacy of the contents of this site, and expressly disclaim liability for errors and omissions in the contents of this site.
Sample the unique atmosphere of Henley Royal Regatta by visiting the Regatta Enclosure which is open to non-members. No formal dress code applies although many people enjoy entering into the spirit of the occasion.
Athletes taking part in the Regatta use this Enclosure extensively. Supporters of crews wearing a Regatta Enclosure Badge are also entitled to access the Boat Tent Area. The Regatta Enclosure is situated beyond the Stewards' Enclosure towards the start.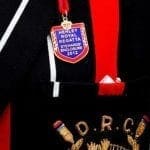 HRR Stewards enclosure Badges
The exclusive area situated next to the finish line. It is only open to Stewards, Members, and their guests. Please call for availability & pricing.
Corporate Hospitality
For over a century and a half, HRR has been the essence of an English social event. Situated on such a beautiful stretch of the River Thames this event provides an ideal medium for business entertainment. We have superb Corporate Hospitality available for Temple Island Enclosure and Chinawhite.
Book online now or call for Henley Regatta Tickets 2022 prices on UK 0203 070 3997.