Wimbledon Tickets Court 1 Singles 1st Friday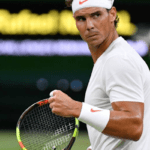 Wimbledon order of play today
First Friday
Gentlemen's & Ladies' Singles Third Round
Gentlemen's & Ladies' Doubles Second Round
From 1 pm on No.1 Court. Buy with confidence. We guarantee that you'll get your tickets in time for the event.
Wimbledon Debenture tickets are allocated in a minimum of pairs together, but every effort is made to keep larger bookings together. Please call if your booking is for an odd number of Debenture Tickets (ie. 1. 3. 5) as these may incur a surcharge.
Wimbledon Debentures for this day are in high demand & they are selling fast, there is only limited availability. Nothing beats being there, book your Wimbledon tickets now or call the Wimbledon London Team on 📞UK 0203 070 3997