Arsenal Tickets buy now ⚽️ All Arsenal Fixtures 2022-2023 
Prices for Arsenal Hospitality Packages for VIP Guests or Clients: We are pleased to offer tickets to Arsenal vs Chelsea as part of a hospitality package for the Emirates Stadium at Ashburton Grove.
We have access to the tickets to Arsenal vs Tottenham and Arsenal Tickets Club Level situated on the Middle Tier. Early booking is advised to avoid disappointment!
✅ Exclusive VIP Experience: Fantastic Arsenal Match Day VIP Hospitality Experience at Emirates Stadium meet & greet opportunities with current and former Arsenal stars!
✅ Fantastic View: Enjoy a spectacular view of the pitch in one of the restaurants located on the Club Level. This is a very informal dining facility.
✅ Buy with Confidence: Our Arsenal Tickets are 100% Guaranteed!
✅ Peace of Mind: Call our Arsenal match tickets hospitality team on UK 0203 070 3997 for fixtures etc and check for current availability and prices.
Arsenal Tickets
Calling all Arsenal FC Fans, and Gunners, we have the Arsenal tickets you need. We specialize in obtaining any Arsenal fixtures, Arsenal FC, Arsenal vs Liverpool, Arsenal vs Tottenham and more.
We know that many of you are looking for a place to buy Arsenal tickets with hospitality online and we can help!
Our company is a full-service ticket broker that specializes in helping fans buy last-minute tickets at affordable prices. We offer an array of hospitality packages to choose from so that your experience at the Emirates Stadium is unforgettable.
Here are some examples of what we offer:
Club-level hospitality—Get the best seats and enjoy delicious food while watching your team play on TV in this VIP private level!
Premier-league hospitality—Enjoy breakfast before the game and then lunch after it's over with your friends or family by your side!
Matchday VIP packages—Watch the match from a prime location with free food and drinks for all guests!
If you're still not convinced about buying tickets from us, here are some reasons why using our services is better than going through other sites:
Arsenal tickets are hard to come by, but we have them.
We're the only website that offers last-minute Arsenal tickets, so if you're looking for a hard-to-get ticket for an Arsenal game, we can help. If you're looking for arsenal match day tickets tomorrow or next week, we've got you covered. And if you're trying to get into the Emirates Stadium this weekend and want to avoid the long lines, we can make that happen too!
Our easy-to-use ordering system makes it easy to find the right Arsenal ticket at the right price—and with our phone support and last-minute availability, there's no reason not to try us out.
Arsenal FC fans, it's time to get excited. We're here to help you get the best Arsenal tickets this season so you can see your favourite team live in action!
With Arsenal fixtures and Arsenal game tickets available now, there's no better time than now to buy your Arsenal tickets. Not only do we have a huge selection of tickets for home games at the Emirates Stadium, but we also have a wide selection of away games as well—so if you're hoping to catch the Gunners on the road, we've got you covered!
We also offer an incredible selection of hospitality packages that include everything from Club Level Hospitality at the Emirates Stadium to VIP Hospitality at any one of our many Premier League venues across England. So whether you want to spend an evening watching the match from high above on one of our club-level hospitality boxes or sit right next to the players themselves in our VIP hospitality areas, we have just what you need!
Arsenal Fixtures 2022 – 2023
Friday 5 August 2022
Crystal Palace vs Arsenal Selhurst Park, KO 20:00
Saturday 13 August 2022
Arsenal v Leicester Emirates Stadium, Ko 15:00
Saturday 20 August 2022
Bournemouth v  Arsenal Vitality Stadium, KO 17:30
Saturday 27 August 2022
Arsenal vs Fulham Emirates Stadium, KO 17:30
Wednesday 31 August 2022
Arsenal v Aston Villa Emirates Stadium, KO 19:30
Sunday 4 September 2022
Man Utd vs Arsenal Old Trafford, KO 16:30
Sunday 11 September 2022
Arsenal v Everton Emirates Stadium, KO 14:00
Sunday 18 September 2022
Brentford v Arsenal Brentford Community Stadium, KO 14:00
Saturday 1 October 2022
Arsenal vs Spurs Emirates Stadium, KO 15:00
Saturday 8 October 2022
Arsenal vs Liverpool Emirates Stadium, KO 15:00
Saturday 15 October 2022
Leeds v Arsenal Elland Road, KO 15:00
Tuesday 18 October 2022
Arsenal vs Man City Emirates Stadium, KO 19:45
Saturday 22 October 2022
Southampton  v Arsenal St. Mary's Stadium, KO 15:00
Saturday 29 October 2022
Arsenal v Nott'm Forest Emirates Stadium, KO 15:00
Saturday 5 November 2022
Chelsea vs Arsenal Stamford Bridge, KO 15:00
Saturday 12 November 2022
Wolves v Arsenal Molineux Stadium, KO 15:00
Monday 26 December 2022
Arsenal vs West Ham Emirates Stadium,
Saturday 31 December 2022
Brighton  v Arsenal Amex Stadium, KO 15:00
Monday 2 January 2023
Arsenal v Newcastle Emirates Stadium, KO 15:00
Saturday 14 January 2023
Spurs vs Arsenal Tottenham Hotspur Stadium, KO 15:00
Saturday 21 January 2023
Arsenal vs Man Utd Emirates Stadium, KO 15:00
Saturday 4 February 2023
Everton v Arsenal Goodison Park, KO 15:00
Saturday 11 February 2023
Arsenal v Brentford Emirates Stadium, KO 15:00
Saturday 18 February 2023
Aston Villa v Arsenal Villa Park, KO 15:00
Saturday 25 February 2023
Leicester v Arsenal King Power Stadium, KO 15:00
Saturday 4 March 2023
Arsenal v Bournemouth Emirates Stadium, KO 15:00
Saturday 11 March 2023
Fulham vs Arsenal Craven Cottage, KO 15:00
Saturday 18 March 2023
Arsenal vs Crystal Palace Emirates Stadium, KOKO 15:00
Saturday 1 April 2023
Arsenal vs Leeds Emirates Stadium, KO 15:00
Saturday 8 April 2023
Liverpool v Arsenal Anfield, KO 15:00
Saturday 15 April 2023
West Ham vs Arsenal London Stadium, KO 15:00
Saturday 22 April 2023
Arsenal v Southampton Emirates Stadium, KO 15:00
Wednesday 26 April 2023
Man City vs Arsenal Etihad Stadium, KO 20:00
Saturday 29 April 2023
Arsenal vs Chelsea Emirates Stadium, KO 15:00
Saturday 6 May 2023
Newcastle vs Arsenal St. James' Park, KO 15:00
Saturday 13 May 2023
Arsenal v Brighton Emirates Stadium, KO 15:00
Saturday 20 May 2023
Nott'm Forest v Arsenal The City Ground, KO 15:00
Sunday 28 May 2023
Arsenal vs Wolves Emirates Stadium, KO 16:00
📞 UK 0203 070 3997 for current prices & availability. Please Note: Arsenal Match dates & times are subject to change at short notice, please check press one week prior to the match.
What do you get when you Buy Gunners Tickets for Sale here
Arsenal Packages includes:
✅ ARSENAL CLUB LEVEL HOSPITALITY
✅ Seats situated on Exclusive Club Level
✅ Free half-time drinks (beers, wines, soft drinks)
✅ Access to Exclusive Club Level Lounges
✅ Matchday Programme
✅ Entry to Arsenal Museum
✅ Emirates Stadium Tour
✅ Merchandise Voucher
Club Arsenal Football Tickets Packages Overview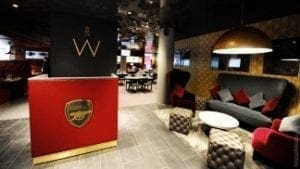 Club Arsenal football tickets package offers a full hospitality experience to be enjoyed at your own leisure. On your arrival at your dedicated Club Level entrance, you will be escorted to your table where you will enjoy first-class cuisine before watching the action from some of the best seats in the Emirates Stadium.
Bookings are for a minimum of 2 guests.
Club Arsenal Package Details
⭐ Champagne reception upon arrival
⭐ Pre-match three-course buffet
⭐ Complimentary selected wines, beers and soft drinks
⭐ Premium match seats
⭐ A private table in the buffet restaurant
⭐ Matchday Programme
⭐ Souvenir gift
⭐ Official event documentation
*Match dates and times are subject to change at short notice. Please check with the venue or local media regularly for the correct time and date. We have no control over match date changes, you are buying for the match so we cannot offer refunds if there are changes to the date and time of the match.
To reserve your places or for more information, including current availability and our prices Book Now or Call the Arsenal FC Package Team on 0203 070 3997 to discuss your requirements.